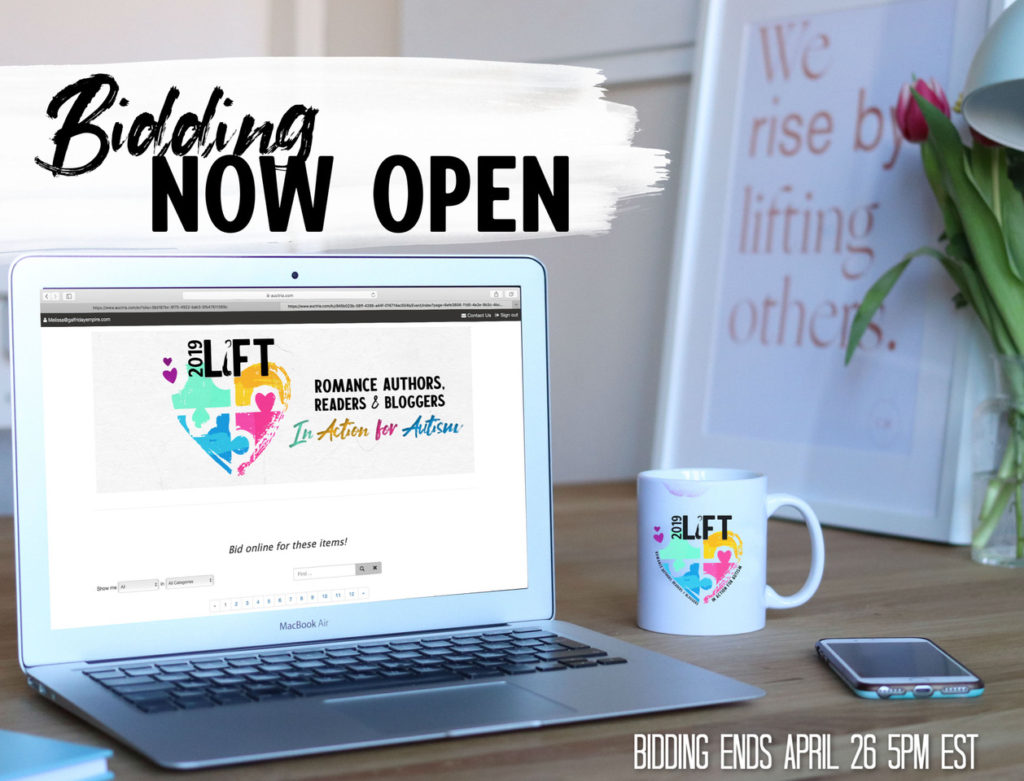 Get your bid on here!
charityauction.bid/lift4autism
"My oldest was diagnosed with autism in 2009 just days before my husband left for Afghanistan. He was gone for eight months while I navigated the autism world alone with a two-year-old and a baby. I turned to romance books to keep my sanity. I found out about LIFT and felt so empowered that the community that helps keep me sane as I walk through autism was raising money for autism!"
— Michelle, Romance Reader & Autism Mom
A banquet for the bookish, the online auction features more than 300 signed paperbacks, hardcovers, full series sets, out-of-print covers, foreign editions, cannot-even-buy event tickets . . . and MORE, all donated by authors, publishers, bloggers, readers. Just people who wanted to be a part of something to help autism families.
Since 2016, LIFT 4 Autism, a charitable initiative organized each April by authors Ginger Scott and Kennedy Ryan, has raised over $100,000 to benefit families living with autism. All proceeds go to non-profit organizations serving the autism community. This year's charitable partner is Kulture City, whose programs serve the autism community with compassion and generosity.

Every item up for bid is deeply appreciated! We have highlighted just a few that we anticipate being hot commodities here: http://bit.ly/LIFT19High

★ Here's some FAQ about the auction and the bidding process that may prove helpful★
Winning bidders will be emailed with payment instructions.
★And if you don't win your bid, you can STILL be involved!

1. Make a tax-deductible "no amount is too big or too small" donation to our Kulture City Fund:
2. Buy LIFT Gear like t-shirts, mugs, sweatshirts, mugs, etc…
https://teespring.com/stores/lift4autism
Kulture City, with its emphasis on acceptance, accessibility and inclusion, is innovating service to the autism community. In addition to partnering with the NBA and other organizations to make stadiums sensory-friendly, they provide much-needed safety resources through their lifeBOKS program and equip autists with tablets to bridge communication gaps and open new opportunities for learning through their tablet: KULTURE program. We are so very honored to stand with Kulture City in their compassion and ingenuity.