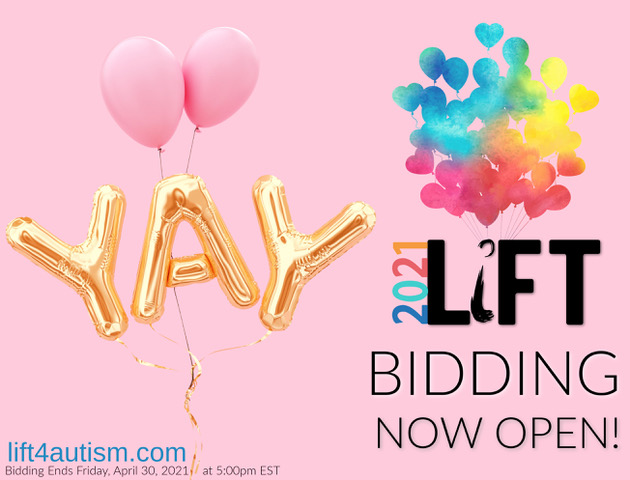 BIDDING IS NOW OPEN!!!
You can bid here NOW: charityauction.bid/LIFT4Autism2021
Bidding closes Friday, May 1 at 5pm EST.
And if you don't win your bid or don't want to bid, you can STILL be involved!
1. Make a tax-deductible "no amount is too big or too small" donation to our Kulture City Fund: https://www.kulturecity.org/f/lift-4-autism-2021/
2. Buy LIFT Gear like t-shirts, mugs, sweatshirts, mugs, etc… (Proceeds to Kulture City)
https://teespring.com/stores/lift4autism
The online auction features signed paperbacks, hardcovers, full series sets, out-of-print covers, foreign editions, passes to bookish events, personal one-on-one Skype calls with some of your favorites . . . and MORE, all donated by authors, publishers, bloggers, readers. Just people who wanted to be a part of something to help autism families. We're hoping many readers will be enticed to bid on virtual chats with authors like Tarryn Fisher, Sarah MacLean and Serra Simone, to name a few. To chat with all-star narrators like Zachary Webber, Jakobi Diem, Julia Whalen and more. Not to mention critiques and video chats with agents and editors. These are just a few items up for bid. We are incredibly grateful for every single item donated.
Since 2015, LIFT 4 Autism has raised approximately $190,000 to benefit ASD families. All proceeds go to non-profit organizations serving the autism community. Now more than ever, we as a global community are uniting, even as we stay apart to contain the COVID-19 pandemic. Auction organizers authors Ginger Scott and Kennedy Ryan along with Kulture City, this year's charitable partner, wanted to respond to the real needs of autism families during this incredibly challenging time. Kulture City will direct proceeds from the 2020 auction to a scholarship program for autism families struggling during COVID-19.